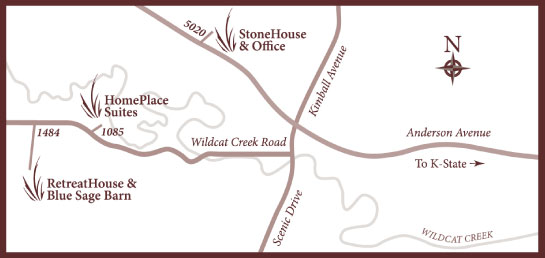 HomePlace
1085 Wildcat Creek Road
Manhattan, KS 66503
RetreatHouse and Blue Sage Barn
1484 Wildcat Creek Road
Manhattan, KS 66503
StoneHouse
5020 Anderson
Manhattan, KS 66503
Phone
785.537.9999
E-mail
[email protected]
Location
Prairiewood is located just outside of Manhattan, Kansas,
but is only minutes away from Manhattan's most popular attractions. It is four miles to Colbert Hills, five miles to Bill Snyder Family Stadium, six miles to Aggieville and six miles to the heart of Downtown Manhattan, KS.
Prairiewood is also located five miles from the Manhattan Regional Airport.